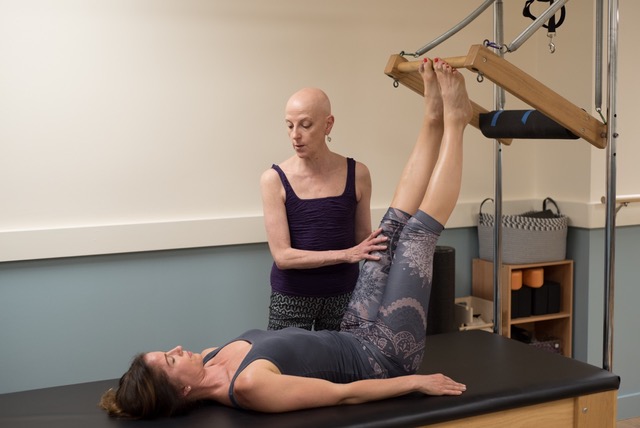 Did you know that February is American Heart Health month? American Heart Health month is a fantastic opportunity to focus our attention on ways to promote and maintain our heart health. In the spirit of trying new things in 2022, one really awesome domain of fitness that's quite underrated is Pilates. To grasp a better understanding of Pilates and its health benefits, Anna Zdziarski, Social Media Specialist at Alternative Balance, interviewed Lavinia Magliocco, an amazing Alternative Balance member and owner of Pilates studio Equipoise ~ Enlightened Exercise in Portland, Oregon.
Lavinia Magliocco is dedicated to helping people move with ease, poise, confidence, and freedom. She believes that Equipoise is a safe place to challenge your awareness and step outside your comfort zone in privacy, with a professional and experienced guide. Lavinia will be graduating with a Master's degree in Clinical Rehabilitation Counseling (CRC), a mental health specialization for working with people who have chronic illness and disabilities. Post-graduation, Lavinia will be combining mental health with Pilates conditioning and somatics in a unique niche based on research demonstrating that physical exercise has many mental health benefits for anxiety, depression, and trauma.
AZ: Why did you choose Pilates instruction as your profession?
LM: "I was diagnosed with Crohn's disease at age 18 and was forced to give up my pursuit of professional dancing because my body was ravaged by the inability to digest food while inflammation compromised my joints. In 1990 (27 years old), I had surgery to remove the diseased intestine. My doctor encouraged me to go back to dancing, but I had lost almost a decade of practice. When I started to take ballet classes again, my body was so debilitated from years of this illness that I couldn't get through class: That's when I discovered Pilates. Within 18 months I landed a job dancing at the Metropolitan Opera in NYC. The rehabilitation which allowed me to reclaim my career is why I teach Pilates and why I love the work."
AZ: How does Pilates improve cardiovascular health?
LM: "Although Pilates is generally not considered a cardio form of workout, it does offer cardiovascular benefits. Pilates can be a form of interval training where certain exercises like jumping (using the Reformer's jump board) or short intense series of exercises can definitely increase heart rate and respiration. For less advanced folks, Pilates' focus on coordinating breath with movement can greatly contribute to heart health."
AZ: How does Pilates prevent hypertension?
LM: "Your heart is a muscle. Regular exercise strengthens the heart muscle. Pilates' mindful and intentional breath increases respiratory capacity. Slow, deep, and mindful breathing activates the parasympathetic nervous system. This decreases heart rate and dilates blood vessels, reducing overall blood pressure. A conditioned heart circulates blood with less effort and more efficiency. In addition, Pilates may support a body composition of greater muscle vs. fat, which has an effect on cardiovascular health and blood pressure."
AZ: Why would you recommend someone pursue Pilates over Yoga?
LM: "The most crucial reason I would steer someone away from yoga is if the person has hypermobile joints. For this population, yoga can aggravate their hypermobility, especially since these practitioners can more easily assume the extreme positions of yoga but are often unable to stabilize their joints. Pilates does not push people to assume extreme positions. Rather, in Pilates we work both concentrically (when bones involved in a joint move towards each other to produce movement, like bending your elbow moves your forearm towards your upper arm) and eccentrically (the deceleration part of moving a joint, when you're moving the joint apart while weighted but in a controlled, slow way).
Lavinia's interview responses showcase the multitude of benefits Pilates has on our heart health. A healthy heart and healthy body are of utmost importance as we age. Pursue something out of the box during these last few days of February and choose Pilates!
Big thanks to Lavinia for sharing her expertise with our audience! You can learn more about her services on her website.