by Gina Brochu, Digital Marketing Specialist at Alternative Balance. Learn more about her here!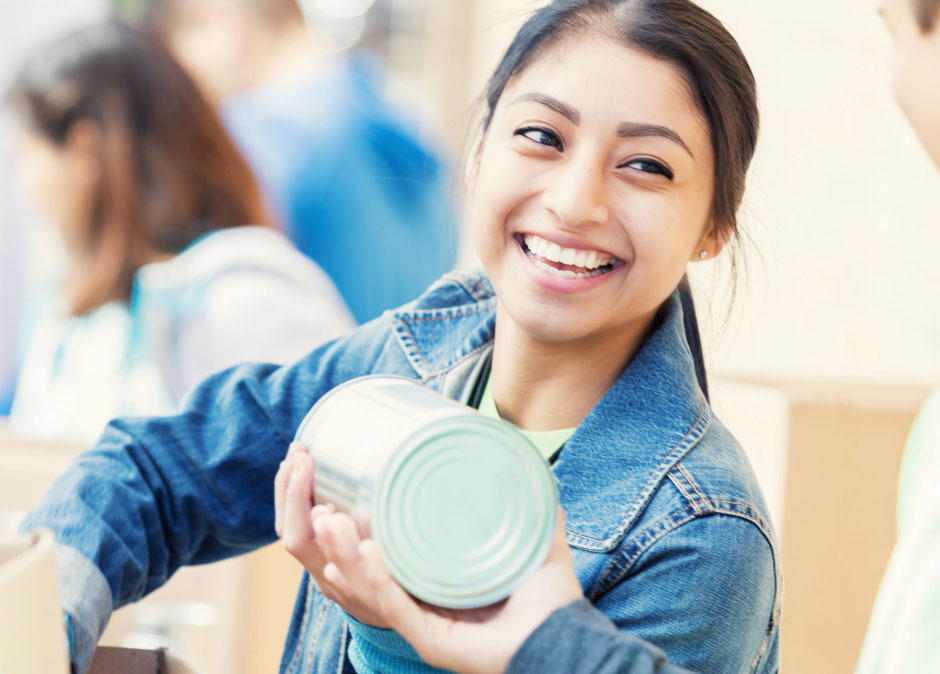 February is national canned food month. I love canned foods for their health benefits, shelf life and ease of use. I often rely on canned goods to help turn salads into a more hearty meal by adding some canned toppings such as chickpeas, olives or tuna. I have to think that if you live in a food desert and can't get fresh produce on a regular basis, canned foods are an essential and affordable way to get more vegetables, fruit and seafood into your diet. Canned foods are also good for the community. Because of their long shelf life, canned goods are a way for some to cut back on their food wastes from fresh produce that was not used in its prime. Another benefit that comes to mind is the ease of giving canned goods. They are a staple at local food pantries and their convenience makes them ideal for distribution into the local community.
At Alternative Balance, we like to give back to the local community. In particular, we have seen that local charitable organizations rely on support from their communities to fulfill their mission of helping those in need. So now that the "season of giving" is firmly behind us, it is important to recognize that our local causes need people to support them and give throughout the year. As a small business owner yourself, you are in a position to have a big impact in your community. You know what the local priorities are and can find information on how to get involved in ways that have a lot of meaning. Whether it's through monetary donations or delicious canned foods – either your own home-canned foods or store-bought – you can make a difference.
It's been proven that philanthropy is good for business. With increasing interest in supporting small businesses and keeping dollars in local communities, people are looking to patronize businesses they believe in and shop at businesses with solid reputations. Here are some key ways to do good for your community and your business:
1. Get involved in organizations that you believe in.
This will differentiate your business from the rest of the pack. Get to know your customer base and learn about their values too. There are lots of ways to get involved in the community, so do a little research and find out what speaks to you. The more connected you are in your community, the more you stay in the front of peoples' minds and become their "go to" when they are looking for what you have to offer.
2. Be a socially responsible business.
Brands often are a reflection of consumers' own self-image. A socially responsible business appeals to clients who view themselves as being socially responsible. Millennials in particular tend to seek out local businesses who have established themselves as a vital part of their community. In fact, a recent study found that millennials were willing to spend more for a product if they felt that the company supported issues that they care about. When it comes to brand loyalty, 9 out of 10 millennials would be willing to switch brands if the new brand was associated with a cause they aligned themselves with.
3. Exude positive wellbeing when giving.
Philanthropy is good for us as individuals too. Studies have shown that when we give to others it releases hormones and actually improves our mental and physical wellbeing. When we give of ourselves, it can lead to lower blood pressure, less depression, less stress and a better outlook on life in general. This is something we all appreciate after the last two years of living though a global pandemic!
4. Set up a donation box at your business year-round!
There are a multitude of ways to give back throughout the year. It may be difficult for a small business to write a big check once a year, but giving doesn't have to be big or with just a check. Giving donations like canned foods directly helps your local community as much as a monetary donation can. Set up a donation box in your business and encourage your clients to participate with you! Giving back to the community provides so many opportunities to network and open new doors. The key is to start somewhere and see where that takes you.
Whether you give while representing your business or prefer to give back anonymously, the returns you will experience are priceless. Working together with your community is a great way to make valuable connections that will continue to spread positivity well beyond your local area. Check out our other articles on Mindful Purpose for more insights!
Sources:
https://health.clevelandclinic.org/why-giving-is-good-for-your-health/
https://due.com/blog/4-reasons-why-your-small-business-should-give-back/
https://www.insider.com/is-canned-food-bad