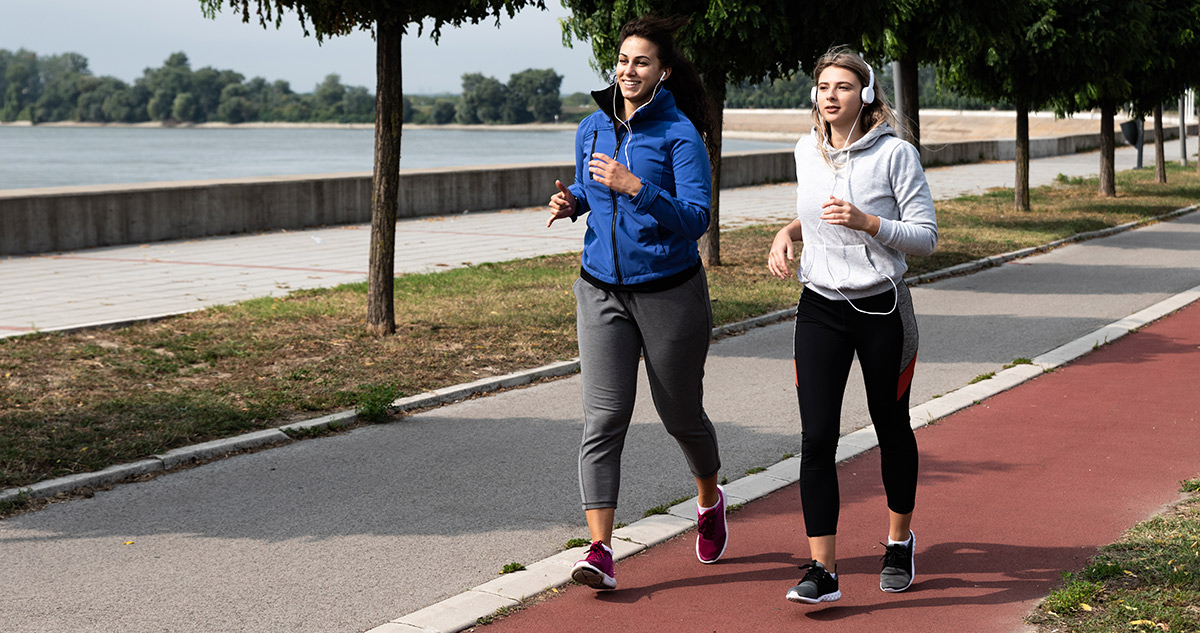 When the beginning of the pandemic hit, my local gym suddenly closed down for a few months. During that time, I explored many alternative fitness options. It was actually quite refreshing to explore new ways to stay active. I began to really love the increasing amounts of time I was spending outdoors. I was lucky enough to have a fitness partner who kept me accountable no matter what mother nature unleashed upon us. We worked out together in sunshine, rain, snow and sleet. On the rare occasion when schedules couldn't mesh or one of us was out of town, we even found a way to connect with FaceTime. As the world begins to edge back to normalcy each day, I find that I am in no rush to head back to my local gym. I do miss some of my friends, but I also really enjoy not having to go to one particular location to get my sweat on. Not all of us are lucky enough to find a fitness partner like the one who helped me get through last winter, but the pandemic has opened the doors to many less traditional options and ways to improve our health and take care of ourselves.
Recently, an ad in the local newspaper for a personal trainer caught my attention, not for what it said, but because there was something missing. The only contact information that I could find in the ad was a phone number. Because they didn't have an online presence, they were missing out on a wonderful way to connect with potential clients. I don't think I would pick up the phone and simply call a phone number to hire a personal trainer "sight unseen," and I know others who feel the same way. We want to see who we could be working with - put a face to the name. Connecting with others through online avenues has become mainstream nowadays regardless of what generation you belong to. Although creating an online presence for your business may feel intimidating, it is critical in this age of technology.

What makes a website so crucial? Well, for starters it creates so many more opportunities for revenue streams. Think "work smarter not harder." With the right website, training sessions can take place at any time and in any place, meaning you can attract clients from anywhere in the world. You also have the ability to offer group training to clients in different locations at the same time. In person face-to-face training is dependent on your client's schedule, potentially resulting in loss of income when they are on vacation or traveling for work. A website allows you the option to create content for a client to access 24/7 while also freeing up your schedule to work on other things or develop new programs.
Another great aspect of having an online presence is the ability to showcase your positive reviews. Positive reviews create social validation and help you establish a sense of authority and professionalism. Another big advantage is that marketing online is much more fluid than the traditional printed collateral piece. For example, it doesn't cost more to include more information, make changes and add additional features to your website as your business grows.
As an outsider looking in, I see the trend of online personal training as a huge leap forward in the fitness industry. I've long felt that having a personal trainer was not for me. I'm not training for a specific event, I don't have a huge amount of time or resources to devote, and I like to vary my schedule enough that it makes it difficult to commit to the same time each day. The trend of online personal training has shifted my thinking, however. Hiring an online personal trainer provides enough convenience to make it accessible and easy for everyone, from the seasoned athlete to the health seeker who is starting a "Couch to 5k" once again.
Whether it is a one-page or a multi-level website (created with a subscription service like our partners OfferingTree or Teachable), commit to getting your business online in 2022. Whatever you do, remember that it takes time and a commitment to update and maintain your website, so keep it simple!
Be sure to visit the Partner Solutions page in your members-only area by logging into AlternativeBalance.com to see the latest online teaching tools we have partnered with.
Written by Gina Brochu, Digital Marketing Specialist at Alternative Balance. Learn more about her here!