There has been some recent discussion in my hometown about how to attract younger people to our community. We have been wrestling with this issue for some time. There are myriad reasons why a small town in New Hampshire might not be all that appealing to the younger generation, just as there are also compelling reasons why some would choose to move here. However, with all this focus on my local community, I did not stop to consider the bigger picture of where our society is headed as a whole: The U.S. population is aging. It is predicted that by 2034 - for the first time in U.S. history - older adults will outnumber children. As the U.S. population ages, is it any wonder that an increasing number of seniors are looking for ways to stay active and age well?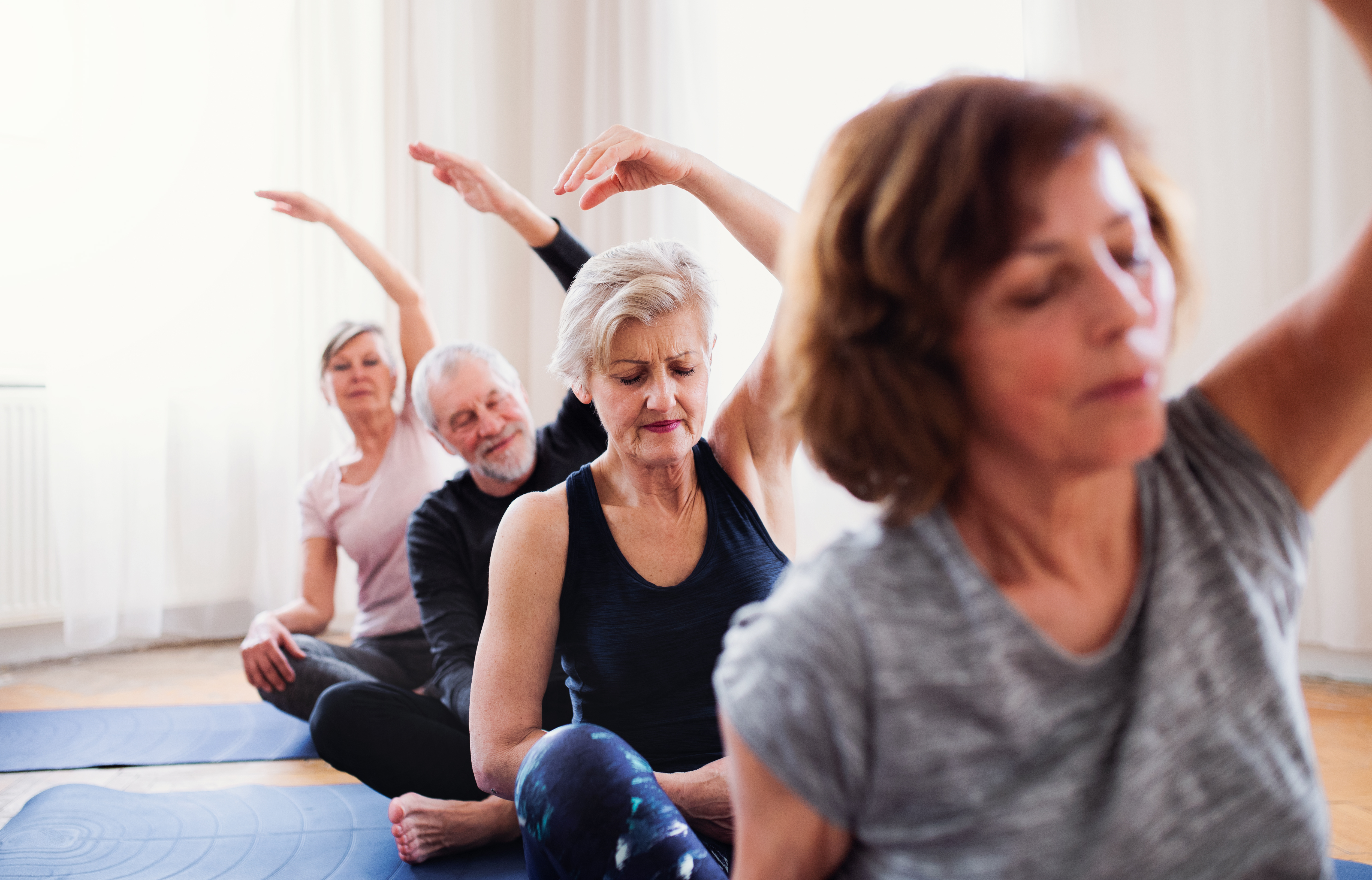 One particular wellness industry that has seen an upsurge among older participants is yoga. There are more practitioners over the age of 50 than ever before - up from 4 million in 2012 to almost 14 million in 2016. There are several reasons that contribute to this growth. Older adults in particular are more likely to have a chronic issue or a health concern that yoga can help address. Seniors are also most likely to have more free time on their hands, especially those who have retired, and can take advantage of finding the time in their day to participate. Older adults are also more likely to have the financial resources to devote to the practice.
My friend and former colleague, Heather (you can find her on Instagram or online), had a few tips to consider when working with seniors. She has taught yoga in a studio setting as well as in private sessions for many years and feels that her additional skills as a personal trainer have helped her be more mindful when working with older people.
Tip #1: Encourage participants to speak up and ask questions. It's easy for people to feel intimidated about speaking up in class because they don't want to interrupt the introspection that is happening around them. But it is important that class participants know that it is okay to ask questions or have poses modified to accommodate limitations.
Tip # 2: Get to know your participants before class. Just as it is important for students to feel a connection with their instructor, it is important for instructors to make an effort to learn about their students. Is it their first time? Are they on any medications that would make certain poses dangerous? Do they have any prior injuries or medical conditions like high blood pressure? Make sure they know you're there to help.
Tip #3: Consider the focus of the class. Are your students looking for stress reduction or functional mobility? Sometimes a student may be looking for the social aspects and sense of community from taking a yoga class or connecting with an instructor in a meaningful way. It is important to remember that every individual has different reasons and goals for practicing yoga.
As you continue to grow in your yoga teaching, consider getting additional training that focuses on working specifically with seniors. Statistics show that as yoga grows in popularity, injuries related to yoga are also growing, with the highest rate attributed to older adults. Whether you are teaching in person or online, it is important to be mindful of the individual needs of your students no matter how young at heart they may be.
Written by Gina Brochu, Digital Marketing Specialist at Alternative Balance. Learn more about her here!
Sources:
Nasser, H. E. (2021, October 9). The U.S. joins other countries with large aging populations. Census.gov. Retrieved October 15, 2021, from https://www.census.gov/library/stories/2018/03/graying-america.html.
New study charts yoga injuries over a 13-year period. YogaUOnline. (n.d.). Retrieved October 15, 2021, from https://www.yogauonline.com/yoga-research/new-study-charts-yoga-injuries-over-13-year-period.
U.S. Department of Health and Human Services. (n.d.). Yoga: What you need to know. National Center for Complementary and Integrative Health. Retrieved October 15, 2021, from https://www.nccih.nih.gov/health/yoga-what-you-need-to-know.