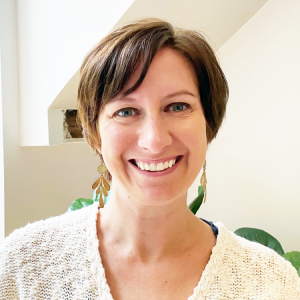 By Kristen Blythe, Rooted Wisdom Holistic Life Coaching
When you hear the words "ancestral healing" what comes to mind? Often these words invoke images of sacred indigenous rituals or perhaps temples in the far east with offerings to ancestral spirits. Unless we ourselves were born into a cultural or spiritual tradition that incorporates ancestral connection into practice and life experience, we can feel very disconnected from the concept of ancestral healing or connecting with our ancestors in general.
Nonetheless, the patterns, traumas, and beliefs of our ancestors play a critical role in the way we experience life, in both helpful and harmful ways. Without the cultural or spiritual resources to address the unbalanced ancestral energies that run through our personal lineage, we can remain locked into toxic patterns and pass those same patterns down to our future generations.
The toxic patterns and traumas that affect us through our lineage are often referred to as "ancestral karma" and many cultures have healing practices and cultural traditions meant to balance this karma rather than pass it down the line. Without the cultural resources to work with our ancestral lineage, though, we can often find ourselves stuck in challenging relationships, feeling disempowered in our own lives, suffering from physical illness or imbalance, and struggling with limiting beliefs born out of trauma. When these circumstances are the life experience of millions of individuals around the world, we end up with systemic and collective imbalances that seem nearly impossible to correct.
The good news is that ancestral healing is becoming more and more recognized as an important factor for healing and personal growth in mainstream Western scientific communities. Epigenetic studies have shown that our DNA itself is affected by the experiences our mother has while we are in the womb and that nervous system dysregulation and trauma can pass down to our children. We are beginning to have an understanding of the importance of our lineage in the very scientific way through which many Westerners approach health and wellness, but can we go beyond the limitations of the modern scientific approach to achieve real healing and progress both individually and collectively?
Epigenetic studies show that we are certainly impacted genetically by our emotions, environment, and experiences, but there are many gaps in the research as to why this is the case, especially when it comes to passing down those genetic patterns through our ancestral lineage. Those gaps in the science can easily be filled by the spiritual wisdom and metaphysical healing practices that were such a deep part of our ancestors' lives and cultural traditions. If traced far enough back, most people throughout the world have ancestral roots in a culture of peoples who were connected to their ancestral wisdom and spiritual practices. When we consciously choose to embark on a healing journey, it is this ancestral wisdom that can reach out through the ages and gift us with the healing we seek, we just have to be open-minded enough to receive it.
Ancestral healing, from an energetic perspective, heavily involves unburdening ourselves of the unresolved traumas that our ancestors experienced. When we experience trauma of any kind and that trauma is left unhealed, it has an impact on our personal lives, beliefs, and experiences. We act through the beliefs and fears that we develop through trauma, and those actions have an impact on those we are connected to in both a very physical way and energetically. This means that any traumas that our ancestors experienced could be having a significant impact on our life experiences in a way that limits our ability to express ourselves and live life with a sense of sovereignty. Our ancestral "karma" becomes the chains that hold us back in life on an energetic level, yet our healed ancestors also hold the keys of wisdom that can unlock these chains.
There are many ways to approach ancestral healing work, but it is work and it is a process. It starts with becoming aware of the patterns in our lives that might not feel quite right and the beliefs that don't really seem like they work well for us. This leads us on an exploratory journey into the energetic components of DNA which is where the imprints of our ancestral traumas and patterning are stored, and here the unburdening begins. Energetic ancestral healing involves working through and clearing the harmful karmic imprints on our personal ancestral blueprint, receiving support and guidance from our healed ancestors, and gaining a deep understanding of the impact of our ancestor's experiences on our own lives.
The more we do this work, the more we experience healing and balance in our body, mind, emotions, and spirit. We begin to live life through our own personal expression and the gifts we have to offer, rather than through the limitations and trauma of our lineage. We also begin to connect more with ourselves and those who came before us in a healed and balanced way, which is exactly how we bring balance and healing to our personal connections and to the collective as a whole.
With a willingness to look a little deeper into ourselves and those who came before us there is an opening of space within us for the wisdom carried in our bones to emerge. Our ancestors knew this, and on some level so do we. We just have to be willing to take a step back, and then another, and then another. So begins the journey beyond the known and into the depths of our roots where our ancestors are waiting for us.
Kristen Blythe is the founder of Rooted Wisdom Holistic Life Coaching and has over 20 years of experience in a multitude of energy-based healing modalities. She specializes in ancestral healing, somatic trauma healing, empath empowerment, and mentoring intuitives and healing professionals. She is an empathic intuitive, Reiki Master Teacher, Certified Meditation Instructor, Certified Life Coach, and is passionate about empowering people in their own healing journey. She offers online coaching and healing sessions, online courses, and is a teacher on mediation apps Insight Timer and Aura.
For further learning on this topic, see Kristen's self-paced online course Reclaiming Your Roots: Ancestral Energy Healing Course
Website: https://rootedwisdomcoaching.com